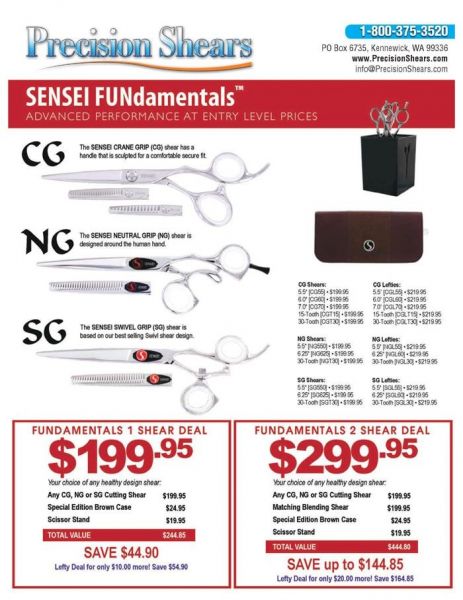 Sensei Fundamentals
Sensei Fundamentals Specials

A) CG - Sensei CG Comfort Grip SENSEI New Comfort Grip Crane hair cutting shear feels great in your hand. The handle is offset to give you full control and a lower elbow position, this levels the wrist and helps prevent carpal tunnel. Many stylists also like the streamlined Flat line? tension system. The tension knob is flat to avoid getting in the way of your comb, and has slots to insert the tension key provided to make it very easy to adjust the tension when needed. You will enjoy the effortless cut from a beautifully polished convex edge. A comfortable cutting shear and priced very affordably, and left handed models are available.

B) Sensei-NG - Sensei Neutral Grip Sensei we makes it their mission to push the limits of design, to help you push the limits of your art. This shear takes the idea of an offset thumb and extends it forward to where your thumb naturally sits at rest. This removes pressure from the palm of the hand and reduces muscle fatigue. The open neutral thumb position also removes 75% of the travel distance to open and close the shear, and is built to maximize your efficiency and minimize stress on the hand. The NG is the first step to a healthier, pain free, way of working. Made from a high quality Duralite? 440C Japanese stainless steel. The tang on this shear is removable and adjustable with the option of a traditional tang as well as the full neutral position. This shear comes in 5.5 and 6.25 inches.

The Sensei NG shear is your entry into a new way of cutting. This shear?s handle is designed to mimic your hand at rest.

C) Sensei-SG - Sensei Swivl Grip SG

The SG?s handle is designed with a subtle curve that follows the natural curve of the hand, allowing your fingers to rest comfortably, while still giving control and support. The thumb on this shear is brought forward to keep your hand more open and relaxed, and allows the hand to fully rotate without ever compressing the palm. Hand therapists around the world are recommending that stylists use rotating thumb shears to help reduce the risk of carpal tunnel and repetitive strain injuries. This shear is designed to help keep your body in an ergonomic and relaxed position and gives the user complete freedom of movement to create complex and intricate haircuts. Made from a high grade and durable Japanese stainless steel, this shear give you everything you need to start working ergonomically. This shear comes in 5.5 and 6.25 inches and 30 tooth thinning/blending shear

The Sensei SG is the beginning of our pioneering rotating thumb design. As the company that first created rotating thumb shears, we designed this shear for stylists to try a new ergonomic way of cutting.