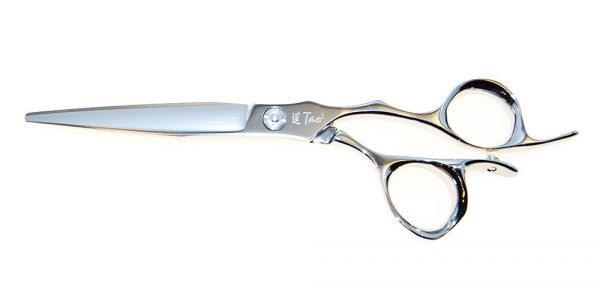 Sensei TAO2 Professional Hair Cutting Shear
Sensei TAO2 Professional Hair cutting shear is a second generation shear by Sensei. This shear is the way to do hair. They start with the most durable steel ever used to make a shear, American steel that was developed for the defense department. This MVC material is then sent to Japan to be fashioned into a very sharp shear. The durability of the material prompted us to put a 5 year edge warranty on Tao shears.The blades pivot on sealed ball bearings for the ultimate blade stabilization. The Molybdenum Vanadium Carbide (MVC) steel the TAO2 is made from, is so strong, if we made a drill bit out of the material, we could drill though any other shear
Made In: Japan
Material: Cobalt
Size(s): 5.5;6.25;7.
Vendor: Sensei
MVC Alloy USA
Crane Grip handle
Flat Line Locking tension system
Removable finger rest
Elite comfort wide contact sculpted thumb
Teflon lined pivot


Tao is defined as: The eternal principle of the universe that transcends reality or the right manner of human activity. In short: THE WAY.
The ergonomic handle opens the hand and the broad thumb contact provides a sophisticated feel unlike other shears. This is simply the best shear we've ever made and we believe them to be a new standard for the discriminating hair artist.
We believe so strongly in this shear that it comes with a 5 year edge warranty.
TAO Shear

List Price $999.95

Sizes: 5.5 inch - Crane, 6.25 inch - Crane, 7.0 inch - Crane
Similar Items: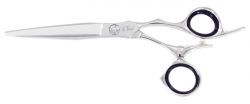 Available Sizes: 5.5 inches, 6.25 Inches, 7 Inches