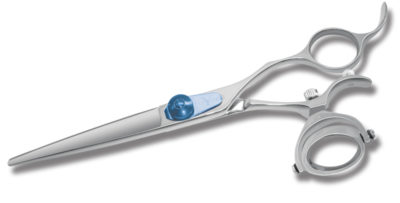 Yuroshi YRT Double Pivot Scissor
Yuroshi YRT Double Pivot Hair Cutting Scissor is set up for maximum comfort and ease of cutting. A thumb pivot which both swivels and pivots as a unit together is the perfect setup to ensure no issues with Carpal Tunnel. YRT has a convex edge for smooth long lasting edge. Designed with V-10 Cobalt Alloy Steel.Tension is adjusted with a knob with spring plate to ensure smooth operation of blade movement.Yuroshi YRT is available with a normal swivel thumb ring rather than the Double Pivot.
Edge: Convex Edge
Handel Type : Double Pivot Rotating Thumb
Made In: Korea
Material: V-10 Cobalt Steel
Size(s): 5.0,5.5,6.0,6.5
Tension: Click Tension
Yuroshi YRT has a feature that can be useful and few people take advange of. The Thumb Ring has an extension tab that allow use to place their thumb against it and then do some quick work with out using the double pivot thumb ring.