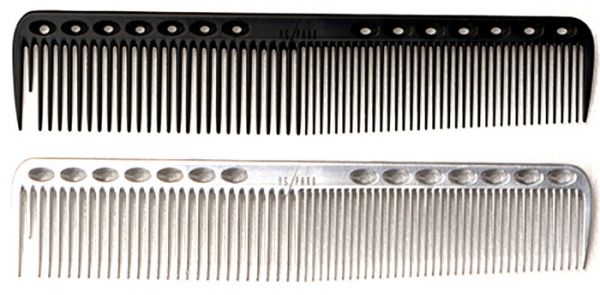 YS Park 339 Metal Comb
YS Park 339 Premium Metal comb. After years of development YS Park introduces the Aluminum Comb series of combs. The 4 models of combs 333, 335, 339, and 452 are now available in a choice of Natural Aluminum or Anodized Black finishes. Each of these YS Park Premium Metal Combs is CNC Milled from a solid block of extruded aluminum. Each combs one of a kind workmanship offers the superlative quality and unequaled durability needed for professional use. No other comb is as heat resistant nor can they create the same beautiful, and precise results. Each comb comes with it's own individual case.



Made In: Japan
Material: Metal
Vendor: YS Park
YS Park
Made In Japan

This one of a kind tool, meant for only the most discriminating stylist, is now available for immediate purchase.
YS Park Premium Metal Combs have the same dimensions as the cutting combs

Model: 339MB, 339MS
Sizes: 7.1 inch

YS Park Metal Comb with leather Sheath, and belt clip.