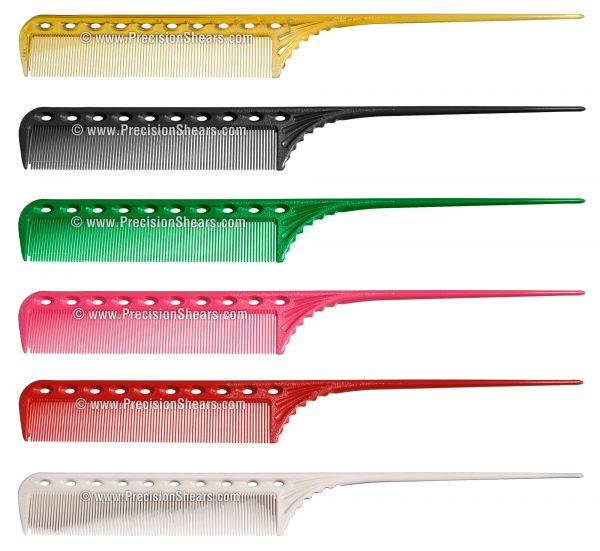 YS Park 111 Quick Tint Tail Hair Comb
YS Park 111 Quick Tint Tail Hair Comb smooth and strong. Built from durable Ultem-plastic, which is 428°F resistant. Specially-sized for all cutting needs. Engineered with gradually-decreasing pitch 1/100 mm from the previous tooth to facilitate even tension through the entire length of the comb. Has a Parting head which is the shorten first tooth of the comb which allows the use to part, and wind hair very quickly.


Color: Camel, Black, Geen, Pink, Red, White
Full Length: 8.75 inches
Heat Resistant: Heat Resistant 220 C 428 F
Made In: Japan
Material: Polyoxymethylene-pom Plastic
Vendor: YS Park
Features:
Length: 8.7 inches
Parting Head: Shortened first tooth
Heat Resistant: Up to 428 F (220 C)
Gradual Pitch: Space between each tooth gets smaller as you move away from the tail
YS Park 111 Tail Comb
Made In Japan
The YS 111 is designed with fine closely spaced teeth which gives more tension on fine or thin hair.