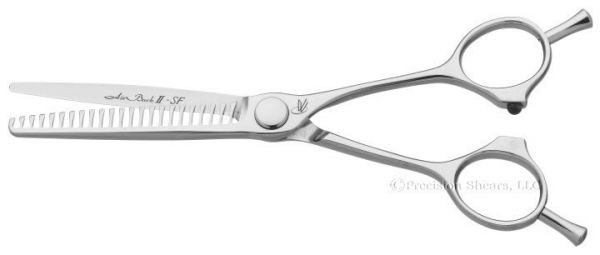 Vern Airback II Cobalt Hair Thinning Scissors 23 Tooth 37 Tooth
Vern's Airback Thinning Series II from the Shigegru factory in Japan is among the finest shears we have seen. Its advanced design combined with the outstanding craftsmanship and finish work make this the shear to own for those advanced stylists who seek the high quality tools. Advanced disk tension system reduces friction to near zero, combined with the finest super cobalt steel alloys a stylist is able to cut an drag effortlessly. An improved design over the old Alaveil. Priced competitively for a shear of this quality. Craftsmanship is excellent on these AirBack Thinners.
Edge: Convex
Made In: Japan
Material: Cobalt Steel
Teeth: 23;37
Vendor: Vern/ AirBack
Material: Cobalt
Convex Edge
Vendor : Vern Co
Disk Bearing Tension
Made In Japan
Performance is excellent. Highly recommended!
23 Flared Tooth design shown. Also available in 37 tooth.
VABII23 23-tooth Our price....$625.00
VABIII37 37-tooth Our price.....$625.00
Sizes: 6.0 inch