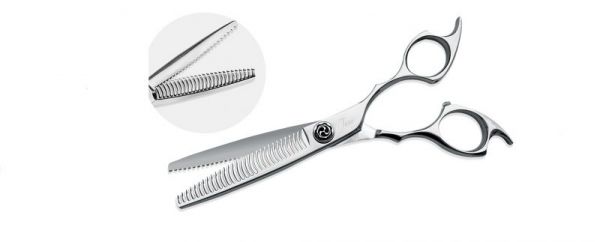 Tara XOT-30 Cobalt Hair Thinning Shear
Tara XOT-30 cobalt hair thinning shear is a new seamless no line blender and top of the line finishing tool. The Tara XOT-30 designed with high quality Japanese Cobalt Steel, features 180 degree cuts out on the back blade to ensure no line blending, and no snag release when you cut and drag. The Tara XOT-30 thinner is designed with a multi step tooth to give a natural blended effect on the hair.XOT-30 model is designed with a straight handle and dual finger rests. This is one of those finishing tools that is worth the cost. Our Top Recommendation.



Cutting ratio 15% to 20% depending the angle of the blade. Great Tool for skillful stylist. Turn the thinner towards the head and increase the amount of hair removed. Straight handle design XOT-30 costs less, and is more economical than the XOT-25 that has an offset handle. Both have same blade design, and leave no line.
Edge: Convex
Handel Type : Straight / Dual Finger Rests
Made In: Japan
Material: Cobalt Alloy Steel
Size(s): 6.0 inch
Teeth: 30
Vendor: Tara