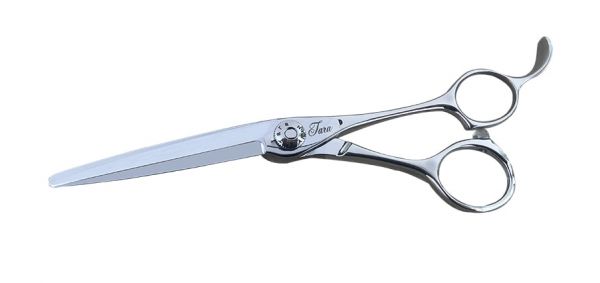 Tara XN Miracle Steel Professional Hair Cutting Shears
Tara XN Miracle Steel Professional Hair Cutting Shear is an advanced cutting shear designed with Miracle Steel. This very special steel is a combination of several different Alloys put together to give an outstanding cut, feel very long lasting durable edge. The exact composition of materials contained in Miracle Steel is not disclosed by the company. Steel Alloys that we feel are used are High quality Cobalt Alloy,Tungsten,Molybdenum alloy among others. The Rockwell hardness is extremely high at near 70 .Offset handle with convex edge Sword blades and Advanced Ball Bearing Tension system reduce friction to allow cutting any section with little to no thumb pressure. Suitable for detail stroke and power cutting. Can be used effectively on Wet or Dry Hair Cutting.
Edge: Convex
Made In: Japan
Material: Miracle Steel
Size(s): 5.5;6.0;6.3
Vendor: Tara
Material: Miracle Steel
Blade Convex
Vendor: TARA
Ball Bearing Tension
Made In Japan
Quality Materials and Excellent Workmanship
If you are seeking a high end cutting shear we recommend the TARA XN with our highest recommendation. XN has the same steel and blade as the TARA XP only XN has Advanced Bearing and no Micro slits.
The best cutting shear in this price range in the industry.