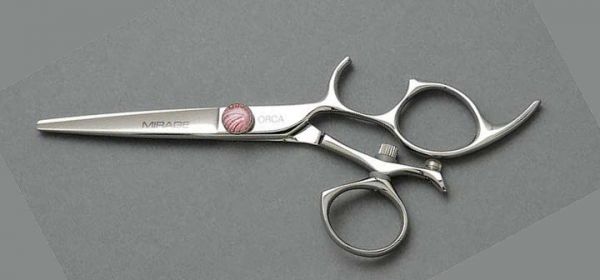 Shisato Mirage Orca Hair Cutting Scissor
Sizes: 5.0 inch, 5.5 inch, 6.0 inch
Edge: Convex
Made In: Korea
Material: Cobalt Steel
Size(s): 5.0;5.5;6.0
Vendor: Shisato
Forged shear
Convex edge
Hollow-ground blades
Japanese V-10 Super Cobalted stainless steel
Fully rotating swivel thumb with click-dial adjustable tension system
Hand-made in Korea.
The unique styling of the Orca allows for superb control for precision cutting and the fully rotating thumb ring helps with carpal-tunnel syndrome, tendonitis, bursitis, neck or back problems. This high-quality shear delivers a silky cut and great comfort.
List Price: $309.00
Our Price: $289.00
Sizes: 5.0 inch, 5.5 inch, 6.0 inch