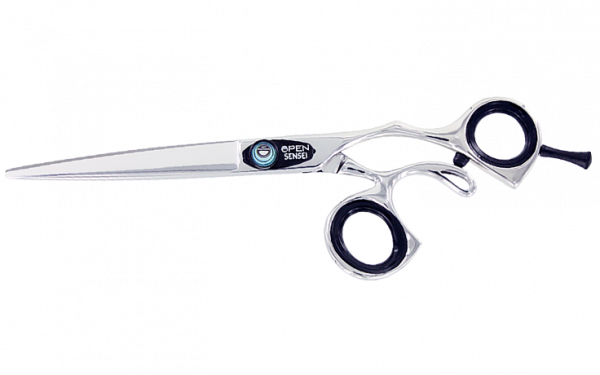 Sensei Open Neutral Grip Left Handed Professional Hair Cutting Shears Sizes: 5.75 6.25 inch
Sizes: 5.75 inch, 6.25 inch
Edge: Convex
Made In: Japan
Material: Stainless Steel
Left Handed: Left Handed
Right Handed: Right Handed
Size(s): 5.75;6.25
Vendor: Sensei
Material: Molybdenum Alloy
Handel: Neutral Grip
Tension: Leaf Spring
Cryogenically Tempered
Convex Edge
Polymer Lined Pivot Guides
Lifetime Warranty


At Sensei we push the limits of traditional shear construction into the future. By expanding and opening up the handle of this shear it allows your hand to work in a natural relax position. Rather then arranging your hand to fit the shear handle. We arranged the handle to fit your hand. This revolutionary change in design comes with added benefits. By taking the thumb forward the travel distance to open and close the shear is reduced by 75%. By allowing the hand to work in a natural position it reduces muscle strain. Hand therapists around the world are recommending our neutral hand position shears and rotating shears because hand pain is no longer "just another part of the job".

No image for true Left Handed Model Available.


Allows a wide range of thumb movement
Click Lock™ For Stable Tension Over Full Pivot
Smooth Cutting Long Lasting
SImply the best steel in the world
This Proprietary Blend is Japan's Finest
Eliminates metal to metal wear
Allows you to comfortably cut with your elbow down
Starts From a Resting Position, Reduces Thumb Travel 80%
Use With or Without Rest
Use in Standard or Neutral Position
Reduce Repetitive Strain by Cutting With Elbow Down