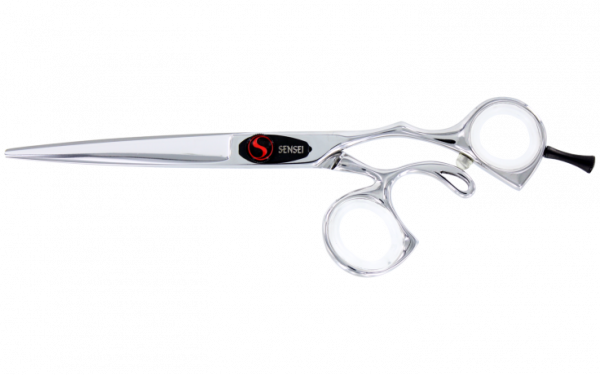 Sensei Neutral Grip Left Handed Hair Professional Hair Cutting Shears NGL55
Sizes: 5.5 inch, 6.25 inch
Edge: Convex
Made In: Japan
Material: Stainless Steel
Left Handed: Left Handed
Right Handed: Right Handed
Size(s): 5.5;6.25
Vendor: Sensei
Material: Duralite 44OC Stainless
Handel: Neutral Grip
Tension: Leaf Spring
Cryogenically Tempered
Convex Edge
LifeTime Warranty


At Sensei we make it our mission to push the limits of design, to help you push the limits of your art. This shear takes the idea of an offset thumb and extends it forward to where your thumb naturally sits at rest. This removes pressure from the palm of the hand and reduces muscle fatigue. The open neutral thumb position also removes 75% of the travel distance to open and close the shear, and is built to maximize your efficiency and minimize stress on the hand. The NG is the first step to a healthier, pain free, way of working.
Made from a high quality Duralite™ Japanese stainless steel. The tang on this shear is removable and adjustable with the option of a traditional tang as well as the full neutral position. This shear comes in 5.5 and 6.25 inches.

No Image of true left handed model available. Right Handed model shown.

Allows a wide range of thumb movement
Click Lock™ For Stable Tension Over Full Pivot
Smooth Cutting Long Lasting
SImply the best steel in the world
Cryogenically Tempered 440C Stainless
Starts From a Resting Position, Reduces Thumb Travel 80%
Use With or Without Rest
Use in Standard or Neutral Position
Reduce Repetitive Strain by Cutting With Elbow Down