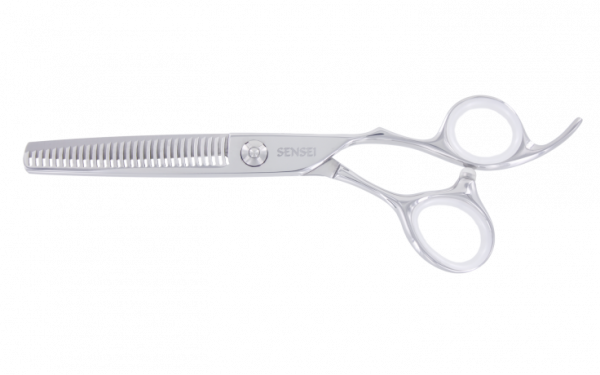 Sensei Comfort Grip 30 Tooth Hair Thinning Shear
Sensei Comfort Grip 30 Tooth Hair Thinning Shear is a modern take on a classic, offset style, thinning shear. This sculpted Comfort Crane offset is a great option for any stylist or barber, looking for an ergonomic feel that isn't too far off from a traditional haircutting shear. It has all the benefits of its matching cutting shear, the CG thinning and blending shear features 30 double stacked, radial teeth. The CG shear gives all the weight removing power of a traditional shear with the added benefits of perfect blending. While a traditional thinning shear cuts all the hair in a straight line, the stacked teeth on the CG is designed to eliminate cutting a blunt line into the hair while texturizing, making it a great shear for both thinning and blending.
Edge: Convex
Made In: Japan
Material: Stainless Steel
Teeth: 30
Vendor: Sensei
Sensei Shears
Convex Edge
Crane Handle
Stainless Steel
Made In Japan

Made from 440C Duralite™ Japanese Stainless Steel, the CG is available in 30 tooth and 15 tooth. This shear features a sculpted, permanent tang which gives added stability and control. The flat line tension system gives it a sleek, low profile, while maintaining the benefits of an external tension system.


Allows a wide range of thumb movement
Stabilizes Blades for Long Life
Smooth Cutting Long Lasting
Simply the best steel in the world
Cobalt Molybdenum
Eliminates metal to metal wear in the entire pivot area
Allows you to comfortably cut with your elbow down
Permanent Finger Rest
Reduce Repetitive Strain by Cutting With Elbow Down