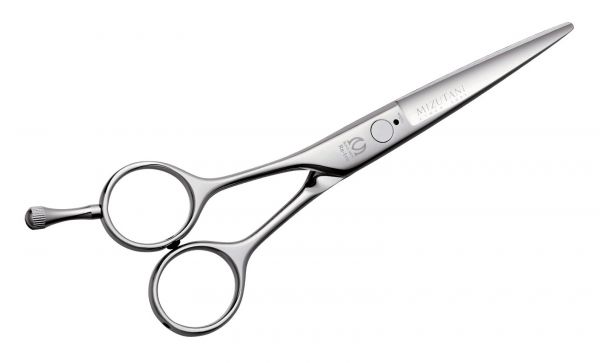 Mizutani Black Smith Retro Left Handed Professional Hair Cutting Scissors Sizes 4.5 inch 5.0 inch 5.
Sizes: 4.5 inch, 5.0 inch, 5.5 inch, 6.0 inch
Edge: Convex
Made In: Japan
Material: Cobalt Steel
Left Handed: Left Handed
Right Handed: Right Handed
Size(s): 4.5;5.0;5.5;6.0;6.5
Vendor: Mizutani
Cobalt
Molybdenum
Convex Hamaguri Edge
Vendor Mizutani
Made In Japan

The Mizutani Black-Smith Retro is a traditional straight handle scissor. The Mizutani Retro is sharp, and light weight. This scissor came from our 88 years of scissor making. Retro is an old fashioned style of a scissor with a modern twist. Combination of cobalt and rare metals with a convex Hamaguri edge gives you precision cutting experience from the 70's and slide cutting and detail cutting of the 2010.
Image of black shear provided so you can see the back of the shear pivot. Tension Key included

Sizes: 4.5 inch, 5.0 inch, 5.5 inch, 6.0 inch