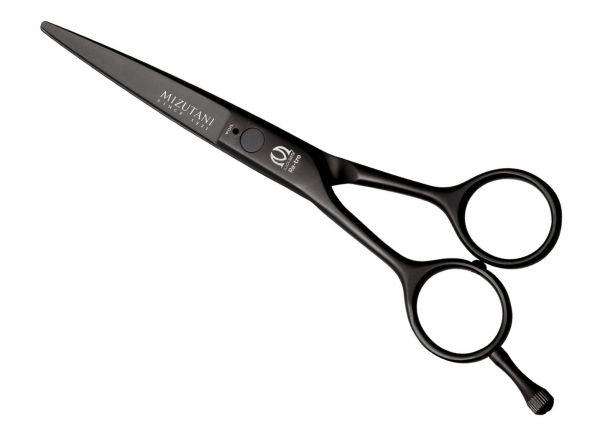 Mizutani Black Smith Retro Black Lefty Professional Hair Cutting Scissors
Sizes: 4.5", 5.0", 5.5", 6.0", 6.5"
Edge: Convex Edge
Made In: Japan
Material: Cobalt Steel
Left Handed: Left Handed
Right Handed: Right Handed
Size(s): 5.5;6.0
Vendor: Mizutani
Cobalt
Molybdenum
Convex Edge
Vendor Mizutani Scissors
Made In Japan


Mizutani's New Black-Smith Retro has Titanium coated matte Black finish on entire body of shear. Matte Black finish has less reflection and glare. Any stylist who has metal allergy can use this shear with out worry. Finish also will prevent rust and scratches.Designed with a flat face tension no knob to catch hair. Tension is adjusted with key from bottom of the shear. Cobalt Alloy light weight made with sharp convex edge for detailed work and precision cutting.





A DISK DRIVER Key
Compact and easy to turn, this is a flat type driver for UFO screws. This screwdriver is included with all scissors with the mark shown.

Model: Re-tro Black

Sizes. 4.5" 5.0" 5.5" 6.0" 6.5"