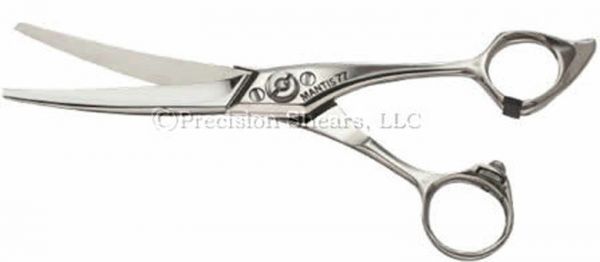 Matsuzaki Mantis 77 Cut R Professional Hair Cutting Scissors
Made In: Japan
Material: Cobalt
Size(s): 6
Vendor: Matsuzaki
Cobalt

High grade material of Matsuzaki Original containing Cobalt with special steel.

Shape of blade/SASABA

Edge line of a blade is more rounded than standard, which makes hairs slide to the tip of blades.
We call such a blade SASABA ( like a bamboo leaf ).
There are two types of SASABA scissors, single and double SASABA

Usage/BRANT

It is suitable to make a straight cutting line.

Usage/SLIDE

It is suitable for sliding cut.








Performance and art combined! The Mantis allows you to design and create a world of new expression. This flagship shear of a century-old company is honed to flawless perfection. Unique, but delicate curved blade is a key feature to prevent hair slippage.

This unique blade shape that was originally developed by Matsuzaki after the image of a praying mantis, called a "Sickle or Saba Blade" makes this truly a unique one of a kind scissor. When blunt cutting the Sickel blade does not let hair go, when slide cutting the Saba blade does creates a smooth slicing. This shear is the product of Matsuzaki joining cutting edge technology and many years of experience.

A one of a kind cutting shear.