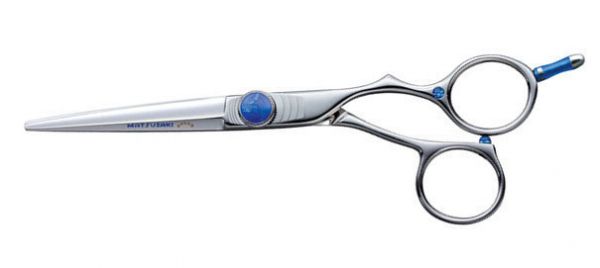 Matsuzaki Aiken 5 Star Cobalt Professional Hair Cutting Scissors
Edge: Convex Edge
Handel Type : Offset Crane
Made In: Japan
Material: Cobalt Alloy Steel
Size(s): 5.5;6.0
Tension: Ball Bearing Tension
Vendor: Matsuzaki
Cobalt steel
Full Saber blade
Ball Bearing tension control
Four plate springs
Blue Shippou covers tension control knob
Made In Japan
Vendor Matteck Matsuzaki



The Matsuzaki 5-Star Aiken cuts with precision. Made with the finest cobalt steel and designed with a full Saber blade to aid the stylist when cutting thick or curly hair due to its strong cutting power. Its Ball Bearing Tension control reduces friction to near zero, and four plate springs under the screw are used to absorb any cutting shock. Blue shippou is applied to the cover of the tension control knob as a way to add elegance to this shear. One of Matsuzaki's best cutting shears.