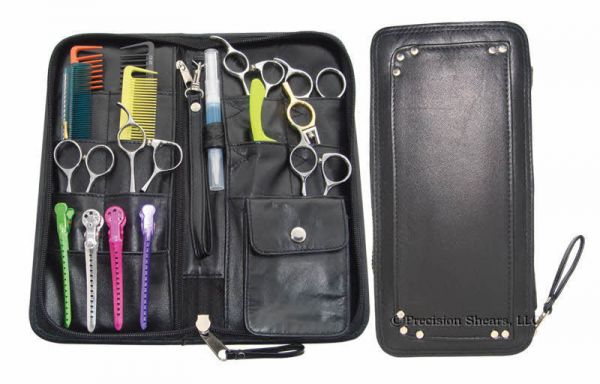 Leather Cowhide Shear Case LC-2034
Genuine Leather Cowhide Shear Case with Zipper Closure LC-2034. This is one our most popular cases. Sturdy construction and Heavy Duty Zipper extra pockets for storage.Backside of Case not show has a zipper storage pocket that you can access from the outside of the case. Very convenient. Case holds up to 14 shears and accessories. A very High Quality Case Recommended. Protect your tools.!
Material: Leather
Vendor: TARA
Genuine Leather Cowhide

Largest Case LC-3034 Has One Extra Row of Storage Pockets Across 3 Rather Than 2 in this LC-2034.
Items shown not included.

Dimensions of Case Empty When Closed

Width: 5.25 Inches
Length: 11 Inches