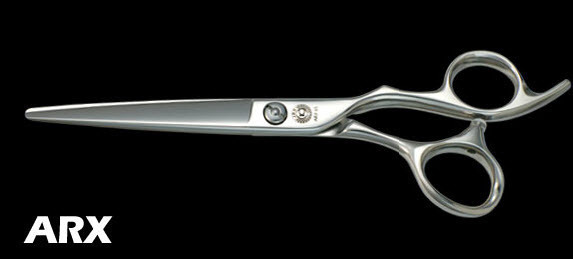 Kouho ARX Professional Hair Cutting Scissors Cobalt Sizes: 6.0 inch, 6.5 inch, 7.0 inch
Sizes: 6.0 inch, 6.5 inch, 7.0 inch
Vendor: Kouho
Origin: Made In Japan
Material: Cobalt Alloy
Edge: Convex


The Kouho ARX Hair Cutting Shear fits your fingers very well with its anatomical thumb, giving any stylist great control, while cutting with great power. Designed with High Grade Cobalt Alloy Steel, the tension control system has an internal click Ball Bearing. This reduces friction allowing for smooth cutting with less thumb pressure, and no hand fatigue. Kouho ARX has a permanent finger rest, and points are fine.The ARX comes with our highest recommendation.
Sizes: 6.0 inch, 6.5 inch, 7.0 inch