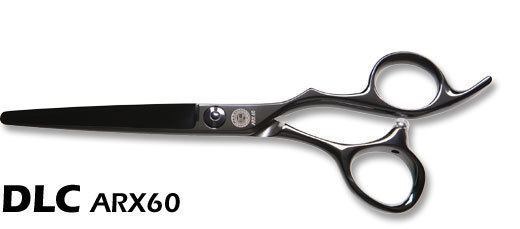 Kouho ARX DLC Professional Hair Cutting Scissors Sizes: 6.0 inch, 6.5 inch , 7.0 inch
Sizes: 6.0 inch, 6.5 inch , 7.0 inch
6.5 inch and 7.0 inch are Special Order Only.
This scissors fits your fingers very well and gives you an excellent stability.
Diamond-Like Carbon (DLC) is formed through the collision of electric acceleration. The energy created with the excited molecules of carbon as they are decomposed through high vacuum arc spark plasma.
The temperature of the collision of molecules reaches tens of thousands of degrees Celsius, and it is only under these high-temperatures and high-pressure conditions that a crystal structure of a hardness similar to that of a diamond can be produced.
The unique efficiency of our company's unique DLC-coated scissors lies in their durability, unrivaled by existing types of Cobalt or Titanium-coated scissors, as well as in their smooth and comfortable cutting power
Sizes: 6.0 inch, 6.5 inch , 7.0 inch